MUBS Green Design Day
MUBS held its annual Green Design Day on April 15, 2016. The event was attended by MUBS students, in addition to a number of high school students. It was an enjoyable day packed with fun, and flowing with knowledge on health and environmental awareness.
The activities during the event included:
1. Bicycle Ride, by Beirut by Bike
2. MUBS/FSUL Cycling Championship
3. Zumba + Aerobics, sponsored by Fit Stop Gym
4. Graphic Design Exhibition
5. Lecture by Mr. Paul Abi Rached
6. Terre Liban Green Contest
7. Healthy Food Table, by the Healthy Club at MUBS
8. VEA Hbr Up-Cycling Competition
Stemming from its commitment to environmental causes, the Graphic Design (GD) Department organizes annually an exhibition on Up Cycling Projects to spread awareness among the university students.
The guest speaker for this year was Mr. Paul Abi Rached, President of "Terre Liban". Mr. Abi Rached was very impressed by the students' projects as he expressed his intention to collaborate with the GD department in future ventures.
Mr. Patrick Zoughbi, Founder and General Manager of VEA, and Ms. Nelly Baz, Managing Partner at Hbr and Contributor at Comma and ArabAd, also attended the event and distributed trophies and certificates to the winners of the MUBS students' contests.

Results were as follows:
Best Industrial Design: Ayad Malaeb
Best Experimental Design: Rayan Naboulsi
Best Adaptable Design: Mohammad Abboud and Zeina Choujaa (Product Design)
Best Adaptable Design: Taha Sibaii (Fashion Design)
Best Adaptable Design: Nizar Nassrallah (Product Design)
Best Adaptable Design: Rawan Abou Said (Accessories)
Best Adaptable Design: Lara Aridi (Jewelry Design)
The winners earned internships at Hbr and VEA to develop their ideas and produce them. The winners for "Best Adaptable Design" will also sign an agreement alongside VEA, which entitles them to royalty fees on the sales of their items. Additionally, the GD Department will be working on a research project, in collaboration with Hbr Creative Platform, during the upcoming semesters.
Another contest that involved high schools' students, the Terre Liban Schools' contest, took place during the event. Students were to execute a 3D model for the "Terre Liban", using reused and recycled materials. A number of high schools presented their projects and three schools were selected.

Results were as follows:
First place: Batloun Technical School
Second place: Choueuifat Official Secondary School
Third place: Shouf National College
The Green Design Day was a testament to the sense of allegiance within MUBS family. The event embodied the spirit of MUBS, thus combining awareness, knowledge, creativity, youthful joy, and responsibility, all coming together for a common cause.
---
Health Days at MUBS
Having your vision, blood pressure, blood glucose, and body composition analysis tested for 5,000 L.L sounds like a dream! Well, the School of Health Sciences (SHS) at MUBS made that a reality by organizing two open-house health days in Aley campus (April 6) & Damour campus (April 14).
MUBS, in alignment with its community service mission, is committed to community awareness and support whenever and whenever it can. The SHS team holds this mission dear to their hearts and translates it in all their extracurricular activities. Those two health day events welcomed people from Aley and its surrounding villages (Aley Health Day) and the Damour & Chouf area (Damour campus).
The greatest part of those days was that SHS students took part in working live with patients by measuring their blood glucose levels, blood pressure, vision acuity, and body composition analysis. This experience is tremendously important for our students. Not only it will give them practical experience of what they learned in their courses, but it will also teach them patient-provider communication and nutrition education skills. Furthermore, our students will have a high self confidence in treating patients and informing the lay public later on in their life.
The SHS team would like to thank Aley campus staff, the Health Club- Aley, SHS students, and the UCTD-Jal el Dib staff for all their help and support in making this event a success.
---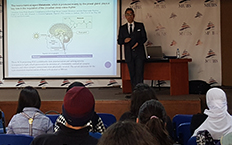 "Effects of High Energy Visible Light" Seminar
As part of its "Science in the Community" Seminar Series, the School of Health Sciences (SHS) organized a seminar on the "Effects of High Energy Visible Light" presented by Mr. Sharbel Abi Ephrem, Optometrist and Business Development Manager at MENA HOYA Vision Care Europe. The seminar took place on Wednesday April 13th at the Damour Campus in the presence of more than 40 attendees.
Mr. Abi Ephrem opened his talk by introducing the audience to high-energy visible light and blue light. He then discussed the harmful effects of being exposed to blue light such as the irregular function of our circadian rhythm (Biological Clock) and the consequences that might be encountered as a result. Mr. Abi Ephrem concluded his seminar by advising the attendees to be careful by limiting the daily use of mobile and computer devices.
---
Sports- Nutrition Training at UCTD- Jal El Dib
On the 9th of April, the University Center for Training and Development (UCTD) at MUBS, Jal el Dib held a Sports & Nutrition training session with more than 60 participants.
The training focused on the following topics:
Definition and benefits of physical activity and post workout meals, meals before and during a competition: presented by Ms. Carole Kamel, CEO of Advanced Sports Center.



Physiology: Anaerobic (Type II fibers) and Aerobic (Type I fibers) and Doping vs. Supplements: presented by Dr. Ziad Harb, University Professor, Researcher, Member of the Lebanese & French Society of Sports Medicine, and CEO of NUMED.



Types of exercise and sports supplements: presented by Mr. Robert Maalouf, Owner/Personal Trainer at Le Gym
The training concluded with the distribution of certificates to all participants.
---
Blood Donation at Damour Campus
The School of Health Sciences at MUBS, in collaboration with "Donner Sang Compter/DSC" Association and "AUB Medical Center", held a blood donation campaign at the Damour campus on the 7th of April, 2016.
A number of students, faculty, and staff donated blood, thus making this campaign a real success.
---
Social Work Workshop
The Association of Universities, Institutions, and Departments of Social Work, in collaboration with the Modern University for Business and Science (MUBS), organized a workshop on April 5, 2016 entitled "The Risks and Challenges of the Social Work Practices".

The workshop commenced with a speech presented by Dr. Hoda Sleem, Secretary General of the Social Work Arab Society and Dean of the School of Education & Social Work at MUBS, followed by Dr. Hatem Alamy, Chairman of the Board of Trustees at MUBS, and Dr. Ali Cheaib, President of MUBS.

After the opening ceremony, MP Dr. Atef Majdalani spoke about the role of the parliament in protecting the social workers in the field. Then Dr. Ahmad Jammal, Director General of Higher Education, presented about the importance of establishing policies that protect social workers, in collaboration with the Lebanese and Arab universities.

Sessions held during the workshop were as follows:
The first session was headed by Chairman of the Human Rights Commission of the House of Representatives, MP Dr. Michel Moussa.

The second session was headed by MP Dr. Kassem Hachem.

The third session was headed by the Founder and Director General of Abaad Organization, Mrs. Ghida Inani.
Finally, the recommendations session was chaired by Dr. Awatif Abdel Hamid from the House Representative in Sudan.
---
---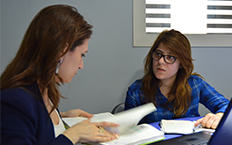 Congratulations to Mrs. Diana Maddah and Dr. Nisreen Alwan for Winning the AUB's KIP Project Academic Research Award
Congratulations to Mrs. Diana Maddah, faculty member at the School of Health Sciences at MUBS, and Dr. Nisreen Alwan, Dean of the School of Health Sciences at MUBS, for winning the American University of Beirut's KIP project academic research award.
This $5,000 award is made possible through a generous federal assistance award from the US Department of State.
Mrs. Maddah's and Dr. Alwan's research project, entitled "The perception of students enrolled in Lebanese rural schools towards the role of women in their communities", aims at exploring the perception of students enrolled in Lebanese rural schools towards the role of women in their communities and the perceptions of women themselves about their status in their society.
---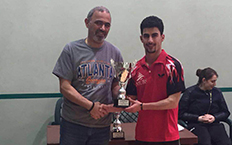 Congrats to MUBS Student Hisham El Tawil!
Hisham ranked second in the Lebanese Universities Table Tennis Championship 2016, which was held at LAU on Saturday April 9.
Way to go, Hisham!
---
Interview with Mrs. Enas Abu Hamdan
Faculty member at the Graphic Design Department at MUBS
Educational Background: Master's Degree in Graphic Design and Visual Communication- Lebanese University- Faculty of Fine Arts.
1. Can you brief us about the Green Design Day and the significance of such event? Following last year's successful event, what additions did you have this year?
MUBS Green Design Day is a yearly event that educates students about topics related to nature and how to protect it. This day is full of activities that encourage our students to become ecofriendly.
During the GDD, participants accessed our Graphic Design exhibition. There was also an environmental lecture with Mr. Paul Abi Rached, LHEE and Green Line associations, Zumba classes by Fit Stop Gym and a bike race. In addition, the day included sports tournaments in table tennis, basketball and mini football. Our guests also had the chance to taste the delicious healthy snacks.
The continuous success of this event motivates us to expand it by the year. What was interesting about this year's event was that 'Hbr Organization', which we cooperated with in one of their contests, announced the results of the competition during the GDD.
2. What was this year's Green Design Competition? What were the prizes?
This year we cooperated with "Terre Liban" which is an environmental association. High School students (Grade 12) who participated in this contest were required to design a 3d model tree which is the logo of this association. Students who participated in this contest had the chance to earn a scholarship at MUBS.
3. What are the latest projects and competitions your GD students are working on?
In our Graphic Design Department, we encourage our students to participate in contests and competitions in Lebanon and abroad in order to practice real life work and to grasp knowledge on how to deal with clients.

During this semester, we participated in different contests like Liban Pack, Drugs competition and Rubber Reusing contests for Lebanon. Last semester, we participated in a project to design an indoor plant magazine for Fragmento Universo- Spain and we won the competition. This semester, we are working on re-branding InstaShop – Dubai.
4. can you share with us any creative idea on how to use recycled material to the benefit of fashion or home accessories?
Nowadays, people are more aware of how to save nature by choosing to reuse old items for different needs.

Regarding this subject, there are many ideas one can think of.  Girls can use old cds and dvds to decorate bags and clothes in a stylish way. We can also use bottles and glasses to plant flowers. Furthermore, wheels may be used as decorative items for plants or to make beautiful furniture and chairs for our gardens.
---