A HEALTHY BODY DURING SUMMER
Good nutrition is a crucial part in leading a healthy lifestyle and summer is the perfect time to improve your health. Here are our top five tips you may follow for a healthy body this summer: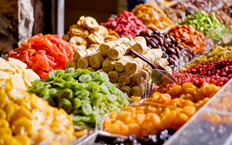 1- Give Your Diet a BERRY BOOST
Have a cup of mixed fresh berries -- blackberries, blueberries, or strawberries -- every day. They will help you load up on antioxidants, which may help prevent damage to tissues.
2- DRIED FRUITS as snacks
Substitute your calorific snacks such as chips, chocolate, and crackers with dried fruits and raw nuts since they are low in calories and fulfilling.
3- Drink plenty of WATER
During the hot summer months, heat and sweat can leave your body dehydrated. The lack of water is harmful to your body and can also make you crave food when you're not actually hungry. It is incredibly important to keep yourself hydrated by drinking at least 8 to 9 glasses of water daily.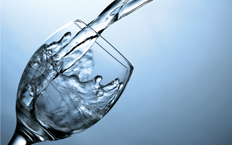 4- WATERMELON
Staying hydrated keeps your memory sharp and your mood stable. It also helps keep your body cool (by sweating) during hot summer months.
5- Keep it GREEN
Always start your meal with a green salad to provide you with all the needed vitamins, minerals and antioxidants. Do not forget to avoid any kind of fried food!
6- Best season for FRUITS
You can enjoy in summer a large variety of fruits such as peach, cherries, plums, melon, grapes, and kiwi. But do not overeat since some fruits are rich in sugar.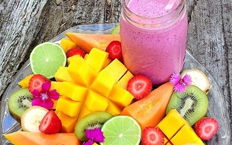 7- Bored of water? Here's a simple recipe to add flavor to your daily water:
Add to your water some lemon slices, a couple of mint leaves, a bunch of cucumber slices, half a ginger root, cinnamon, and some ice cubes.